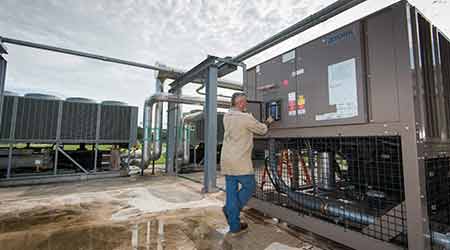 Part two of a 4-part article on the Houston Independent School District's HVAC preventive maintenance program
By Dave Lubach, Associate Editor HVAC   Article Use Policy
Before the preventive maintenance program, the district's HVAC technicians worked in "firefighter mode," Busby says. "There was no planned maintenance in the approach we had taken with this many systems and multiple chillers, air ventilators, and handlers per building. You can't lay out what your plan is going to be from one day to the next because you had so many priority ones with no PM program."
The PM program has helped the district reduce its maintenance spending on boilers, chillers and replacement parts from $10-12 million yearly to $1-2 million. Since implementing the program, the district has gone from replacing major pieces of equipment several times a year to only replacing one boiler during the last three years.
"Before the annuals and the PM started, we had a lot of replacements regarding chillers and boilers that weren't lasting their lifecycle," Hoskins says. "We were spending a high number of calls on major repairs. Now with the PM and annuals, we are able to diagnose a lot of problems before they occur. It has reduced a lot of time regarding failure breakdowns, especially replacing compressors."
The PM program also has drastically reduced the number of service calls.
"We're now at a place with our PM program where we see in our day-to-day chiller requests and issues that reduced calls from 20 to 40 per day to about five to 10," Busby says. "Most of those are resets because we have antiquated control systems and things of that nature that a school district with buildings over 60 years old have."
Response times for service calls also have dropped significantly.
"We've increased turnaround time on what we considered all along to be routine repairs," Busby says. "So now, a unit being down a couple of days is a unit that's repaired in four-to-six hours, depending on the parts needed, versus putting out the biggest vs. smallest fire first."
posted on 9/12/2016
---
---
Comments